Fiji is located in the South Pacific and thanks to its ideal geographical location and port construction the country has become the shipping hub in this region. Since 2010, Fiji has experienced a comprehensive economic growth, growing at 4.2% in 2017. In the past five years, the bilateral trade between Fiji and China has grown from FJD 370 million (RMB 1.18 billion) to FJD 880 million (RMB 2.8 billion). During the same period, some premium Fijian brands including Fiji Water, Fiji Beer and Pure Fiji entered the Chinese market one after another. Today China is the third trading partner of Fiji.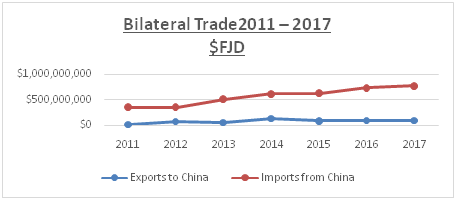 Currently Fijian exports to China concentrate on agricultural products, fish products, wood and paper as well as minerals and metals. On the other side, the structure of the Fijian import trade from is highly diverse.
The Fijian government initiated the "Fijian Made and Buy Fijian Campaign"in 2009 and the manufacturing sector has since become one of the most thriving sectors within Fiji's growing economy including textiles, garments, footwear, sugar, tobacco, food processing, beverages.
The rapid development of the Manufacturing sector which opens to the prospect of more Fijian goods entering the Chinese market, and the Fiji-China Free Trade Agreement currently negotiated between Fiji and China stand to send the strong momentum for the bilateral trade.