On 22 May, the Minister for Tourism Hon. Premila Kumar opened the 2019 Fiji Tourism Expo, the biggestB2B tourism annual event in Fiji, at the Sofitel Fiji Resort & Spa. This year, 158 international buyers coming as far as Ukraine, Italy, Singapore, China, Japan, and the USA joined the event where they met 300 exhibitors. On 23 May, The Hon Minister and the CEO of Tourism Fiji Matthew Stoeckel hold a press conference and answered questions from the media with 14 international media attending this year's event.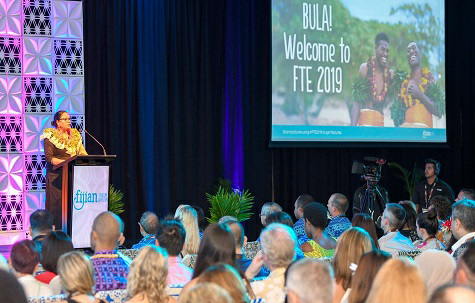 The Consul General of the Republic of Fiji in Shanghai Dr. Yolinda CHAN and Tourism Fiji's Office inShanghai also attended the Expo. The Consul General in Shanghai took the opportunity to meet tourism stakeholders at the Expo to seek collaborative ways to better promote Fiji tourism products in China.
China has always been an important tourism market for Fiji, which saw the annual Chinese visits in the past five years rising from 28,000 to around 50,000. This year also with the China Pacific Tourism Year and Fiji has planned a series of activities under this initiative in partnership with the Chinese Cultural Centre based in Suva to further promote its tourism in China.